Investing in Fish Sticks
Everyone likes Fish Sticks, so we'll assume the answer is yes.

Much like you enjoy dipping large crispy fish sticks into your mouth, smothered in copious amounts of creamy white tartar sauce, chances are you'll also enjoy adding these stocks to your portfolio.

Banquet - owned by ConAgra Foods, Inc.(NYSE:CAG)


Conagra pays a sweet 3.29 percent dividend yield at the time of this writing. The stock has been steadily rising - during the last 6 months shares are up 20%. Very solid Grandpa style Fish Stick stock for you. Hell when you're a grandpa, you'll be able to tell your grand-kids that your retirement was funded by Fish Sticks - and you're damn proud of it.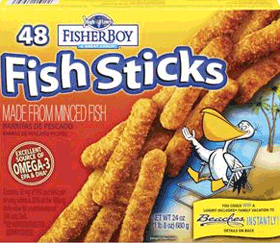 High Liner Foods (TSE:HFL) makes the "Fisher Boy" line of Fish Sticks. The stock pays a rather paltry 1.26 percent dividend yield, compared to ConAgra. However, the company has raised its dividend steadily every year.

For some reason, shares are up 96% in the last 52 weeks - looks a little bubbly but hey, fish sticks are the trend and a wise man once told me that the trend is your friend. I just realized that this stock only trades on the Tokyo Stock exchange, so my apologies and good luck placing your order on that one.



Unfortunately, the other 2 large fish stick makers, Gorton's and Pinnacle Foods are private. Maybe one day they will IPO and America's Fish Stick lovers will be able to get in on more of that sweet Fish Stick money.
P.S. - What are you, a gay fish?
Best of the Blogs
BlogDroid 600
Scanning and identifying the best blog entries every hour
Latest Headlines
Newsbot 3000
The most relevant financial news and articles from the Internets